Bridget Faricy loved it as soon as she saw it. She and her husband were in Paris for their 20th anniversary four years ago when they came across a small shop the sold Hi-Di-Hi Winky bags—a bag that has an eye on the outside and winks from time to time.
Immediately, she was sold.
"I bought one and wanted to get another but the company wasn't interested in selling in the U.S.," Faricy said. "After pestering the owner for about 10 months, she finally allowed me to become the distributor and my company was born."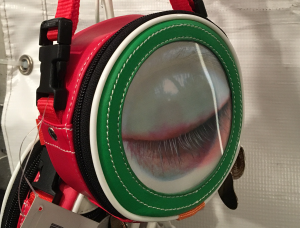 The rest is history. Faircy began distributing Hi-Di-Hi among other products, including Moshiki about 18 months ago, and she has added more brands along the way. Her StylArena shop will be coming to Holidazzle on Thursdays through Sundays from Friday, November 25 through Friday, December 23. Holidazzle is open Thursdays from 5-9 pm, Fridays from 5-10 pm, Saturdays from 11 am-10 pm and Sundays from 11 am-7 pm.
At Holidazzle, those who stop by Moshiki will be able to browse and shop handknit mittens, hats, handwarmers and skirts as well as their popular Hot Cookies TM skirts that are a snap-wrap, side pockets (a hip version of a fanny pack), and The Original Santa Headbands that Faricy invented. They will also have Hi-Di-Hi bags and accessories—including the Winky bag, vestiges souvenir towels and pillows designed by local artist Shalene Ziemann.
"It is a great way to continue and build our brands and promote the local stores that carry our brands," Faricy said about taking part in Holidazzle. "People really love our fun products, and it will be great to offer them to the public directly."
Faricy hopes people will learn about her Moshiki products and beyond, noting that they are fun, well-designed and moderately priced items that make great gifts and are created by small companies. They are available locally at a number of stores, but coming out to Holidazzle offers a chance to shop while enjoying the festive atmosphere of the season in Loring Park.
Faricy said her team is excited to take part in Holidazzle and are looking forward to having a great time with the community.
"Holidazzle has always been a fun way to enhance my holiday shopping," Faricy said. "Feeling the spirit of the season rather than just going to the mall to buy stuff.
"It's a time of magic—delighting friends and families with fun experiences and great times together. I love that I bring brands that make people so happy."