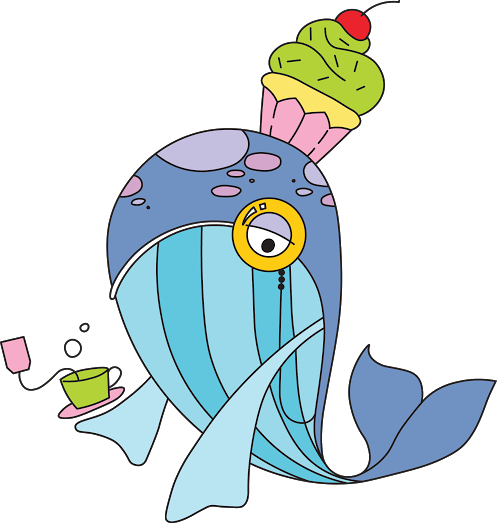 New to the Minneapolis community, The Thirsty Whale is a must try. This fresh new bakery just launched in July 2016 and is ready to serve your sweet tooth.
"We love what we do," The Thirsty Whale business manager Sarah Bignell said. "We try to make that obvious in the way we run our business."
Megan (creative genius and decorator) and Kyle (main baker) met while working at another bakery, and when that company went out of business they decided to open up their own.
After attending culinary school in Minneapolis, Megan has been working as a pastry chef and decorator for several years. Since her dreams of one day owning her own bakery took flight this summer, their business has been driven mostly by Megan's beautiful custom cakes.
This Holidazzle, The Thirsty Whale will be featuring several different holiday cookies, cupcakes, sweet and savory breads, and plenty of treats. You'll see a lot of variety as they bring new flavors to the table each week. You can find them at Holidazzle throughout the event's full run: Thursdays through Sundays from Friday, November 24 through Saturday, December 23. It is open Thursdays from 5-9 pm, Fridays from 5-10 pm, Saturdays from 11 am-10 pm and Sundays from 11 am-7 pm.
"Attending the Holidazzle parade was a tradition in our family," Sarah said. "Hopefully being at Loring Park will become a new tradition for our business."
Sarah and the team are looking forward to meeting new people and spreading lots of cheer throughout their time at Holidazzle.
"It seems like our 'Minnesota Nice' attitudes become even more obvious around the holidays and it's great to see everyone so warm, selfless, and appreciative," she said.
Also, The Thirsty Whale wants all Holidazzle goers to note that they are accepting custom orders. Though they have not officially opened up their storefront yet, they are fulfilling orders and always accepting request and suggestions.
"Our goal is for our customers to not only be impressed with our products, but also with the way we treat them and the way we present ourselves," Sarah said.
Don't miss your chance to indulge on delicious custom desserts this holiday season at Holidazzle.