Denise Grundler didn't plan on starting a soap business. She just wanted to make quality soap for herself and her family.
Turns out her hobby became a successful venture.
"I call Pure Goodness Bath & Body Shoppe my accidental business," Denise said. "It just happened, it fell into my lap."
Now, you can visit Denise and see her bath and body products first-hand at Holidazzle on Thursdays through Sundays from Friday, November 25 through Friday, December 23. Holidazzle will be open Thursdays from 5-9 pm, Fridays from 5-10 pm, Saturdays from 11 am-10 pm and Sundays from 11 am-7 pm.
Denise started her business back in 2013 but had been making soaps for many years prior. Once word got out that she was making soap, especially some made from goat's milk, people immediately started to place orders.
"I had customers before I even had a business," she said.
At Holidazzle, you will find a large selection of soaps, some made with goat's milk and a fragrance free selection for those who are sensitive to fragrances. Shea cream, bath bombs, bath salts, lip balms, fragrance roll-ons, and soap accessories will also be available.
Once Pure Goodness Bath & Body Shoppe was licensed as a legitimate business, Denise became a member of the Handcrafted Soap and Cosmetic Guild. Based out of New York, this organization sets standards all members must meet to ensure top quality products. Also providing education at various levels, Denise became a Certified Soapmaker.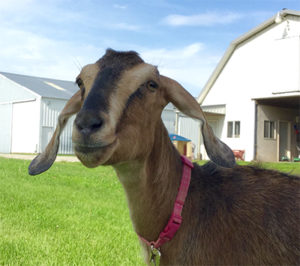 I hope people will see how much I truly love doing what I do, and those who try my products will experience what fabulous skin feels like," Denise said. "Yes you can have great skin in the Minnesota winter too!"
Her products are made with her own wonderful recipes and all skin safe ingredients (paraben and formaldehyde free). The milk in her goat's milk soap comes from her very own goat, named Miss Rosie. She is a five year old Nubian Dairy goat and provides Pure Goodness Bath & Body Shoppe with all the milk they need.
For Denise the holiday season is very busy with sales, but she is looking forward to being part of Holidazzle and the Minneapolis holiday festivities. She is especially excited for the fun, ice skating, movies, Santa, shopping and food that Holidazzle brings.
"Most of all, I love seeing people out having a good time and enjoying themselves," Denise said.